Sparrows seem to fear nothing!
They kept going in and out of the tiny hole in this wall. His shadow made me giggle!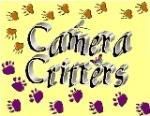 I heard a rumor there was a huge flock of Bohemian Waxwings in Door County and we were lucky enough to find them - about 300 of them - what a lovely sound to hear!
The bad thing was lack of sun. I could not get any better photo than these with all the fog and mist. So they are marked off my "seen it" and "got any photo" lists, but are still on the "great photo" list.