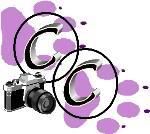 I decided to give Camera Critters a try, I sure hope I'm doing my first post right, if not just let me know and I'll try to do better next time. :)

While I was playing with the settings on my camera, increasing the depth of field. . .



. . .and decreasing the dof, I noticed the flower had something a little extra on it.



It appears to be a tee-tiny, nearly microscopic, clear, see-through, slug? He sure boogied, slithered and slimed, himself all over the flower while I was snapping away.



That little dark spot on him, is actually in him, maybe his organs (or poo?)?



Needless to say, every single shot I took that day was marred, in some way, by his presence. That's mostly because I had taken about 30 shots before I even noticed he existed!