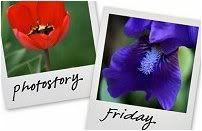 Hosted by
Cecily
and
MamaGeek
I'm sure you've at least heard of, if not seen the movies,
The Texas Chainsaw Massacre
,
Silence of the Lambs
and
Psycho
.  Did you know that they were all loosely based on the same person?
Ed Gein was born in LaCrosse Wisconsin, but his parents moved the family to Plainfield to get away from the sins of city life.  Now in case you've never been to LaCrosse, let me tell you, it's not that big of a city.  But, Plainfield, IS a one horse town, I'm not so sure they even have a stoplight.
Because I'm morbid, one of the first places we went when we moved to Wisconsin was to find his grave.  Somewhere I have photos I took that winter but these photos are just from this summer.  His grave marker has long been vandalized and is gone, not to be replaced.  But you can see the empty spot between his brother and his parents. (According to
Wikipedia
the stone was recovered in Seattle and taken to Wautoma, Wisconsin where it is now on display at a museum. - I'll have to check into that.)
His home was near the cemetery, I never have figured out the exact location and the town wishes the memory to fade so I can't exactly walk up to someone and ask.  The house burned down years ago and to the best of my knowledge the land is empty.
Although, there are suspicions that he killed his brother and possibly a few people labeled as missing, and he did get convicted of killing two people, mostly he robbed the graves of the same cemetery he is buried in.  He did have human parts in his house and did wear a human face/mask, like Leatherface and Buffalo Bill.  He thought highly of his mother, like Norman Bates.
He spent the years from 1968 until his death in 1984 in various mental health facilities and died while in Madison.  But before he was caught, he did odd jobs for the Plainfield residents.  Imagine how you'd feel if you found out your plumber, electrician, handyman, had this horror living inside of him.
As for location, Plainfield is about 30 minutes south of where I live.  My daughter and her fiancé delivered newspapers to the area this past winter, and although it may sound weird, I always worried about them in those early hours of the morning, I'm so glad they aren't doing it anymore.
I haven't chased down any other of Wisconsin's 'famous' people, like Jeffrey Dahmer, or even John Wayne Gacy down in Chicago.  I haven't touched the unsolved
Capital City Murders
in Madison, where victims are female college students, even though a young college girl was killed down there last fall. There's much debate on whether or not LaCrosse currently has a serial killer, eight drowned men, ages 18-22, resembling each other, could be the work of the Smiley Face Gang Killers, but some say no.  I think maybe some people just can't tolerate the winters up here.  And winter seems to be fast approaching.
I did take down the coordinates of Eddie's gravesite, N 44 13.000 W 89 31.221, in case anyone is interested.  But if you come up to visit him, you must let me know so we can meet up too.  But let's not meet in the winter, 'kay?