Cell phone pic snapped at the visitor's center in Fargo, North Dakota. I loved the colorful buffalo, but he's not the biggest.
The World's largest buffalo is a little further down the road. (point and shoot pic)
Trying to show how big he is I hid behind the bison's leg.
My husband was way more creative and feared being pooped on.
I couldn't resist a quick self portrait reflection - I'm a critter too, right? ;0)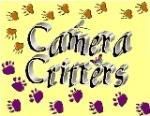 Real Lhasa Apso puppy, you can see more of her in the post below. . .