Remember last year, when I saw this Killdeer, I had hopes of being lucky enough to see some of the little yellow cottonball babies?
As I peered through a fence (restricted area) I saw a few Killdeer and I wondered if I would be luckier this year.
We nearly missed them, they're so small!  No longer cottonballs, but cute nonetheless.  Miniature versions of their parents dodging this way and that.
The fence kept us from getting closer, darn it!  And they would not come nearer.
There's one on the far left and one on the far right.
Maybe next year.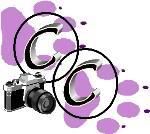 ~ ~ If you wonder why I'm not around, it's because we're up on Washington Island this weekend and there's no internet there - heck there's barely tv there, see you Sunday night.  Oh, don't forget to sign up for the Christmas Ornament Swap a couple of posts down :) ~ ~