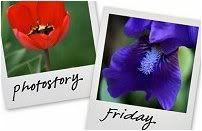 Hosted by Cecily and MamaGeek
 After visiting the Sand Dunes we made our way to the Capulin Volcano in New Mexico. We stopped along the way to do a few caches and I found a little critter.
He enjoyed his sunning rock and enjoyed watching him.
It really is neat finding a splash of growing color amongst the rock and the sand and barrenness.
We made it to the Capulin Volcano National Monument and my guys walked the rim, a mile long trail. I walked a portion of it, then went back to the bottom to wait. It stands about 1000' above the surrounding landscape, with the mouth/crater being 400' deep. It is really an awesome place and you can see for miles when you stand on the rim.
The mouth/center is concave (it's an example of an extinct cinder cone volcano) and it acts as a huge megaphone. So you can be down in the bottom, or anywhere along the rim and easily hear what someone else says. Remember that if you ever visit. I really enjoyed just sitting there, in peace, cool breeze blowing and voices drifting from a half mile away.