Buffalo intrigue me! But I know to stay back. These two weren't happy with each other.
I enjoyed watching this babe nursing, oblivious to the arguing males.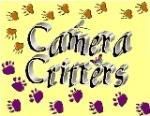 This photo makes me think of those dairy books showing the different bulls you can use for stud, lol.  Wonder how he would rate.