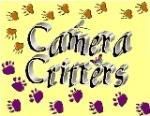 I have almost exhausted my supply of photos from warmer days and from the zoo. But we're far enough into winter that it won't be long until we have warmer days again. . . right? I just love geese!
This is a Lady Amherst Pheasant and believe it or not, when my children were very small I had a pair of these and a pair of Golden (which have the same features in just different colors – the white is yellow and the blue is green). I bred them and incubated the eggs, the little pheasants were so cute when they were hatching!
I almost overlooked this cat, she never moved, just sat there staring.
I think it would be neat to have one of these printed huge to use as a backdrop.
I think this fellow was hoping I'd feed him, but I just made him a star.