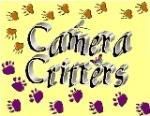 WARNING: Potential gross out post!
Yesterday I showed you the Bald Eagle and Hawk eating their dinner and today I'll show you the Great Horned Owl. Some of these aren't as sharp as I'd like but he was a more ferocious eater than the eagle was and keep in mind I was shooting a moving creature through a fence on a cloudy day.
We have a Great Horned living in our neighborhood and he loves to screech in the evening but he has not yet cooperated for a photo. I wish there was a way to lure him in but instead I just keep waiting.
Mice underfoot.
He kept looking at the Eagle in the next cage, kind of taunting him, while the Eagle kept pacing the fence wanting to get through.
Gulp!
The tail is still there.
After a big burp, he took his last mouse over within a foot of the Eagle to finish it off.
Again I'm glad I'm not a mouse!