I talked my husband into going back to feed the ducks. We took some corn with us to feed them.
Quack! Quack!
So I snapped some close ups, while Dennis snapped some with the fisheye. He said I could share some of them with you.
I think they like the corn!
This guy was not shy at all!
Neither was this gal.
Sure hope we have enough feed.
And here's me feeding the ducks.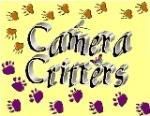 We'll be on the road today, on our way to Missouri, so I may be slow making the rounds.