My husband, by now, is used to me yelling 'Stop! i gotta grab my camera, there's a _____, pull over.' Poor guy doesn't even flinch anymore.
He quickly slowed down (does that make sense?lol), did a u-turn and pulled off for me. This guy was huge!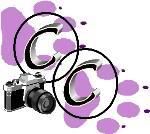 He seemed friendly enough though.
I laid in the road, to get on his level, but I stayed out of snapping distance, his snapping distance anyway.