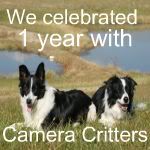 We scared up a red squirrel while geocaching in Vermont.
And there were several Bobolinks around, but they never do cooperate with me very well.
We saw more butterflies than fossils at the Goodsell Ridge Fossil Preserve.



Goodsell Ridge contains the most complete fossil record of the world's oldest reef dating back over 480 million years ago. On Goodsell Ridge, between stands of cedars and clusters of purple clematis and snowy aster, the ancient bedrock juts out from the soil, displaying in swirls and fossils organisms of extraordinary antiquity. ~Lake Champlain Land Trust

Haden found a wasp busy building a nest on a rock.
I thought these fish were pretty cool, but I don't know what they are. They seemed to be fighting.  We found them at Chazy Reef at Isle LaMotte, along with the turtles of a few days ago.
Hope you are having a great weekend!  And Happy Father's Day to all the dads out there!