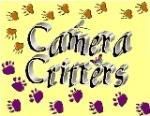 I love the bright red of male Cardinals but they only pass through my yard. It was nice that while I was visiting my parents in Missouri a few came to hang out with me at the bird feeders.
Aside from their bright bold red, I truly love their little top plume of feathers!
I enjoy the duller shades of the female. I think her variations of color make her more beautiful than the male.
On a side note - I think my daughter and granddaughter will be going home from the hospital today, which means my grandson will be going home.  The house has sure been full - and busy - with him in it.  He has kept me hopping, but there have been many hugs and laughs.  But my point is that he has kept me too busy to be online much so once he goes home this afternoon you can expect me to start making the rounds.