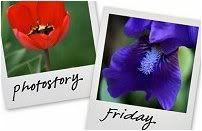 Hosted by Cecily and MamaGeek

Sorry for missing last week guys! And just a heads up that I will miss the next two weeks while we're on vacation but I'll see you again in June.

While traveling some back roads near Milwaukee we discovered a Pauper's Cemetery. Most of the people buried here were unknown and most of the stones are simply blank. The one above reads, "Unknown Male Infant"
See, blank. I found it very sad that there were so many unknown peoples, but grateful that they were at least buried and given a marker. Near our home is a poor people's cemetery with only one stone. A stone that explains what the cemetery is and no names or markers for where the graves actually are.
I did find a few markers with words.
And right next to unknown white lies unknown colored - men or women I do not know.